I'm Cold
January 23, 2012
I'm numb
I'm cold and can't move.
Bruised and wadding through a frozen pool,
Of broken dreams, and even though living seems like the unthinkable,
Along the way, I always find a piece of being.
Maybe it isn't as bad as it seems,
Or maybe everyone is just trying to trick me.
Who knows?
The world is turned around, upside down, and pushed underneath.
Can't you see this thing?
It's talking to me in my sleep.
Scary little demon eyes, look inside, and find the good.
Don't think, when you hear the word suicide, "God, I want to die."
For reasons I can't explain,
You've managed to regain the upper hand in the middle of the desert sand.
The raging sun gleams,
And the people I love flea.
But that's all I've ever seen.
So it's your turn to leave.
Single file out the door
Without saying a single word.
Don't turn around and look back at me because I'm already dead inside.
Eyes stinging, needles stringing, endless seizing, stop the ringing!
I'll eventually cry myself to sleep, while vastly shrinking.
This is not the end of me,
So don't be so fast to say goodbye
In an endless cry for attention.
This is my consent.
I hope you hear it because this is the last package I'll ever send back.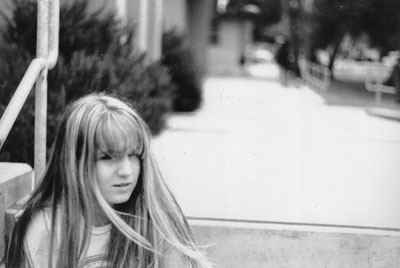 © Alyssa R., Pacific Grove, CA