My Wall
January 27, 2012
My wall,
barbed wire at the top.
A slippery substance,
unallowing me to climb it.
It's always there,
I can't escape it.
Can't go around it.
It's a dead end.
The only way to overcome it,
is to go back and
take a different path.
But, it's too late now.
If only I could
push it down.
Highly unlikely.
I've tried.
Pushed and shoved
with all my might.
But it just
won't fall down.
Standing tall,
it intimidates me.
Dares me to overcome it.
Even has missing bricks,
tempting me to climb it.
In my head,
I know it's impossible.
I should know,
not to listen to my heart.
Climb this wall,
facing the struggles
that comes with it,
so my heart says.
But I'm afraid.
Afraid of what damages
could come with
such a risk like this.
If I listen to my head,
I could miss out
on what life hands to me.
So I think,
I'll follow my heart.
Just this one last time.
And overcome this wall
ahead of me.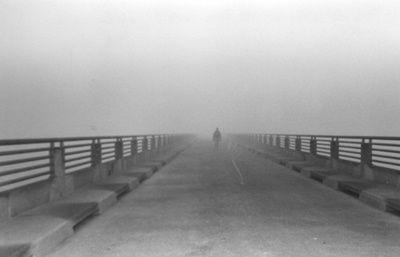 © Becky G., Westville, OH