Unspoken sorrows
January 28, 2012
I want to speak to you
in the language of sorrow,
Shed those liqiud crystals
for happiness which I cant borrow.

When I look in the mirror
of life, I see,
a damn good actress
who lookes same as me.

She hides her tears
in a best ever make up of smile,
But if you look in her eyes,
You'll find tears in a pile.

And then she reminds
me of my sorrows,
And my happiness
which everyone borrows.

I look away from her
and from my self and my fears,
Knowing the sunshine isn't my friend,
but my best friends are my tears.

But its my fate that
even my tears are away from me,
And I miss that real smile,
on my face I used to see.

My sorrows are unspoken
as the words are lost,
And sadness dissolves in me
as the happiness is at high cost.

The world thinks
that I'm happy
But they don't know
that my life is so crappy.

I still smile and no one
except you can see through it,
I thank you that I don't need
to say about my sorrows a bit.

As my sorrows are unspoke
And there are no more words to say,
And these secrets I'm hiding,
now no more I can bay.

But I in believe you
Better than in myself,
As you know whats better for me,
and you know me better than myself.

I still see the light of hope
But my self-esteem is on the edge of knife,
Let whatever may come,
I'll just believe in you and love my life.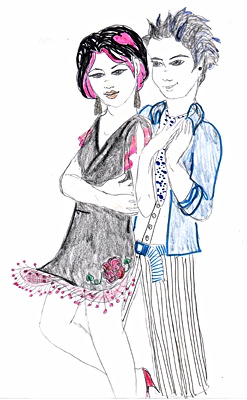 © Liaz M., Vineland, NJ