Continuous
January 25, 2012
To begin a new era.
Ready
with a ticket--
a neatly folded piece of paper
tucked between random pages
of a book.
Ready
with clothes stuffed into a suitcase.
To begin.
To be.
To be in the gray.
Everything is coated
with gray. Gray!
And not to be confused
with monotony.
No.
Gray is waiting.
Here
you are all waiting. Waiting,
but not out of patience. Waiting
because there are long lines, and
technology, and
coats held andemptystomachs
andsuspicionandfearandsweatand
everything that is human!

Here
you wait.
And in some way, you wait
by running
frantically, in desperation
to not miss what you had been waiting for
for months,
since last summer,
ever since you wanted to leave,
ever since you wanted out!

To break free
from iron bars.
To let loose
from one confinement
to fall
into the next.
To shift the weight
onto another foot,
onto another part of the world!
To begin
a new era.

And so you wait
with perspiration painfully,
slowly sliding down your spine, with
clenched fists, with
clenched jaws, with
the haunting desire to turn around and just
go back.
But no!
You wait
with a heavy bag that digs
into your shoulder, with
your life--remnants of the old, withering past--
stuffed into that suitcase
even though it defies the point
of starting over.
Every time
you are starting over.
All of the numerous tickets
tucked neatly in your heavy book, until
there are shadows everywhere! Duplicity
just with changing dates. Astonishing,
the numerous ways
you can layer clothes
into that green bag.
The countless times
you have waited
in that same line,
just
with different people--
people with different bags,
people with different habits,
people with different new eras!
Everyone
but you.
Yes,
your habits change,
your demeanor
your appearance,
your dreams your goals your knowledge, but
it's still you. You there,
hiding inside of a hidden body,
a body forever changing.
That body;
my body.
My body.
This is my story.
In this gray area
everything
slows
and then
stops.
A snapshot
catching one of the many moments
in which my life has swept across
this thin line this crack
separating eras and
lengthy periods of time
that were just too long to stand!

But here.
Here is the pit stop
I will forever pass through,
forever waiting to get out!
To breath!
To dance!
To scream!
To run!
To love!

To come back again.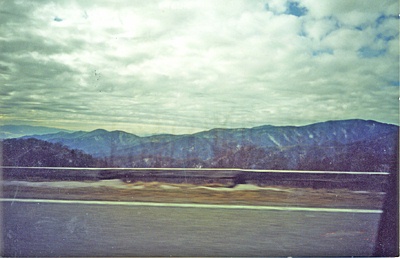 © Valerie W., San Antonio, TX