Golden Arches
January 25, 2012
I won't make it.
I won't survive.

Eyes swelled shut.
I'm paralyzed.
Heat blisters my skin,
boiling—warping—bloating.

The pain
leaves me begging for death.

In the distance,
I hear thousands
of shrill screams
in pain.

Thousands screaming,
like me,
stuck in this
eternal purgatory.

My own howls are
noiseless… useless…
will nobody save us?

How long have I
been lying here?
Days?
Hours?
Minutes?

Suddenly,
cold air penetrates
my blistered skin.
I'm out.
Those around me relax,
freedom! Oh, freedom!

I feel the work
of invisible hands
reaching out to me—
carrying me.

My skin perspires—
sags—
as I cool.
My eyelids feel heavy,
bloated.

Fighting the pain,
I open my eyes. I
am in a carriage,
surrounded by the sleeping—
or dead.

Oh, God!
I'm rising!
Something is squeezing
my sides—
electric shock to my skin—

Quickly,
white pillars descend
from a pink-hued
Dome,
filling my vision.

Are those teeth?

Above is the
large, yellow,
Double Arch—
"M".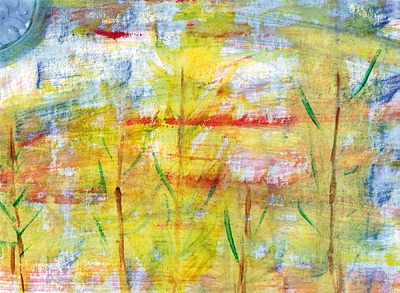 © Raymond G., Phoenix, AZ