Emotion Ocean
January 18, 2012
On a gloomy overcast day,
he rode the city bus to work.
His mind silently pondered the meaning of life.
A sea of colorful jackets
sailed past his window.
The bus slowly came to a stop,
the sea quickly dissipated,
leaving only a choice few.
Their eyes met.

A moment of grand nirvana overtook him,
like an undertow pulling him out to sea.
A choir belted from the heavens.
His brown to her green,
mutual beautiful serenity.
Freckles dotted her face
like seashells on the beach.
Her sandy blonde hair
floated in the late autumn breeze.
She was seemingly miles away,
yet separated only by a pane of glass.
She looked away, furrowed her brow.
A wave of disappointment swallowed him.

He decides that work can wait.
She stepped onto the bus.
His stomach sank like an anchor.
Her moccasins silently made their way to his seat.
Glances were quickly exchanged.
A quick smirk, then she continues on her way.
He needs to stop falling in love with strangers.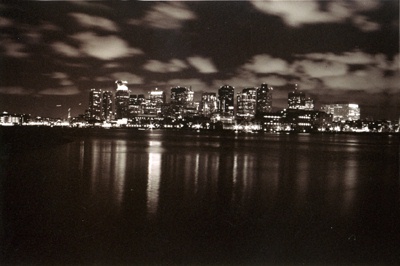 © Hoang P., Rochester, NY