I am a house,
January 13, 2012
I am a house on the outskirts of a family farm.
I've sat here watching families grow & change. Generation by generation.
But now my white paint is chipping, my once blue door fading. My windows are shattered like all of my memories.
They left me here with nothing but an old rocking chair on my porch and haunted, hallow insides.
The vines are taking over my body and I sit here day by day falling apart little by little. Eaten by bugs. Injured by weather.
And I see my families new house on the hill, and I envy it.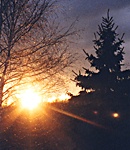 © Vhristy S., Germantown, NY