None Did Show
January 8, 2012
The white walls were still and deep and bleak;
A wide open space for clarity
Where none ever seemed to show.

I sat hypnotized by the silence,
By the plain white walls with room for truth;
The truth I really wished to give,
To give for days on end.

I sent screams to the silence
and misery red
To the white walls, lacking life.
I closed my eyes tight for everything,
For all the things I could never be.

Callous metal; deep and dark.
It whispers to me, it calls me home.
Begging to taste my misery red,
Begging for a taste of life and color
On those walls where none did show.

I let her kiss my skin again,
Her metal tongue, lapping my sorrow.
She sipped my worries and spilled my fears
Along the walls where none did show.

For months i lived without her touch,
Her sacred brush along my skin.
Until one evening I called her back
To paint the walls misery red.

But the walls remained still and deep and bleak.
And I sat paralyzed by the sight
Of crippling silence crawling into my head
And everything splattered with truth.
I sent my screams into open space.
She never answered my call...
The callous metal buried deep in my arms.
All the life that never did show.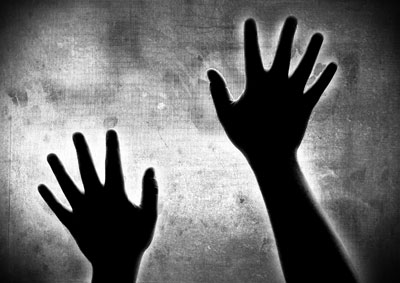 © Andrew F., Lake In The Hills, IL