My Blank Canvas
December 21, 2011
An array of colors lies before
My blank canvas.
Bold hues and lighter ones,
They all have voices,
Some angry and loud
Virtually screaming my name,
But others are quiet; tranquil,
All hoping to be used on the coarse material.

I am in a predicament
Wondering which colors will create
The perfect painting.
Darker shades:
Black and grey
With forceful brush strokes
Is one option.
Or possibly pastel pigments
Vibrant, bright, inspiring
Using delicate, gentle hand movements
Gripping the paintbrush
Ever so lightly,
Like it is a fragile glass
That will break on contact.

And then I notice
A miniscule mistake,
Practically insignificant,
But when I glance at the painting
It is all I see.
I could start over,
Abandon all my hard work,
But is it really worth it?
Instead, I look at it
As an opportunity
To turn an accident
Into something beautiful.
A budding blossom
Or perhaps, a lovely,
Captivating sunset

I add the finishing touches
Dip my paintbrush into
The red
Purple
And rose colored dyes.
Make the final brush strokes
And finish the last details
And when I am done,
My work-
A masterpiece-
Stares back at me.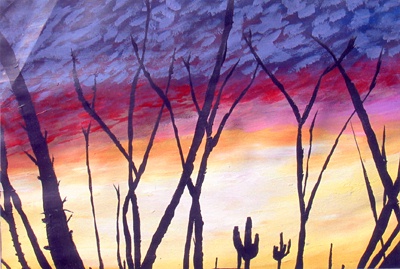 © Kassia C., Phoenix, AZ