Every Christmas Gets Colder
December 19, 2011
Im sorry but I cannot.
I cannot find an entering in your eyes to push my saddness through, not a hole in mine to push it out.
I cannot list the reasons why I hate you on a looseleaf peice of paper
I cannot listen to the crumble in your voice as it dawns on you the difference between daughter....and me.
I cannot stop the blurble of annoyance, like a sharp edged slug, from wiggling through my stomache when I hear your sobs.
I cannot help but wonder if you feel the same about me.
Im sorry. Im sorry that I have to apologize but I cannot let you in.
Because my head is tilting like a toy dradel when the thought that you are just like the boys enters my brain.
So, forgive me but I cannot trust and I cannot love.
This is why everday I bubble up in anger and you melt with desperate defeat.
And Mother, Im sorry but I cannot read this poem to you.
I cannot put a title for my feeling on a white page and let you soak it into the folds of YOUR brain.
THIS IS FOR ME. and so I cannot read it to you,
and I know that youll ask me to
but I cannot.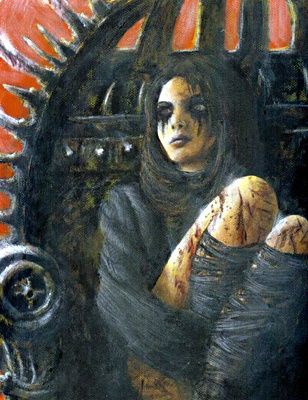 © Veronica N., Kenora, ON, Canada