What You Should Know About Her
January 12, 2012
It's best to let her sleep until her inner clock says she should rise,
wipe the sleep from her eyes, and gaze around her room, splashed with blue.
Let her slip from between her sheets to stretch the cricks
from her slender arms and back.
She will dress in her customary attire of the day:

Blue jeans plum colored shirt with bare feet
and peacock feathered earrings.

Start her day with chocolate,
better than any vitamin or medicine.
Lightly brew coffee on the cool counter top,
Allowing it to gurgle cheerfully along with the soft radio music.
Every hue of Prisma Color is laid out on the oak table
next to sticks of charcoal and water solubles.
Chapstick should be at the ready,
concentration is hard, lip-licking work.
Don't waste her day with chores,
make her laugh for, play is also needed.
Take a walk around the yard in the cool mud
(but-only-if-it's-the-good-kind; texture is key).
Chickens cluck timidly and stay just out of reach.
As she follows them, let her mind wander
to a world far stranger than our own
where bums are the best kind of friend and
Pirates and Ninjas always win.

Ennui is the enemy; distraction. is. essential.
A family trip telling jokes and stories of "back then" will hold ennui at bay.

Afterwards, settle-her-down with a cool glass of milk
and a bowl of rich ice cream.
Turn Disney on and-sing-along-to
The
Lion
King.

She will end her night with a thick book, a ritual.
Read until the moon has reached its climax
and her chin meets her chest.
Tuck her beneath the s t a r s and the l i g h t s.
Her bed will cradle her, lulling into d r e a m s
where fantasy is no longer fiction and
the ebony sky is ribboned with quotes of the wise.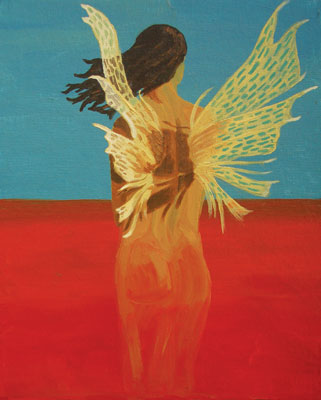 © Allison F., Langhorne, PA