Light of Destruction
January 10, 2012
The clock ticks.
The water drips.
The dust grows.
Leaving each their own mark,
Of the emptiness.
Broken glass.
Squeaking doors.
Falling shutters.
Once so beautiful.
Full of light.
Walls painted bright colors.
Sun shining through clean windows.
Flowers on end tables.
Now withering.
Plummeting to the floor.
Footprints left in the dust.
Of a time that once was.
Once so filled with life and energy.
Now only shattered picture frames.
Ripped photographs,
Turned to ash in the fireplace.
A lone soul ventures inside.
Taking in the shallow misery.
A tear cascades down.
Splashing to the floor.
Forever lost in the sea of gasoline.
So light the match.
Watch as it falls.
Slow motion descending.
Flames lick playfully at every corner.
Every board. Every memory.
Vanishing in a lake of hungry orange tongues.
Until it's gone.
Every last detail.
Once a beautiful haven.
Now filled with the light,
Of destruction.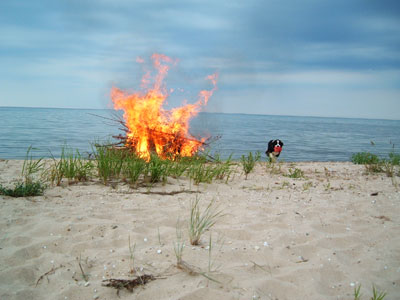 © Hilary L., Rogers City, MI