A Stranger With a Dream
January 7, 2012
It was a normal day.

I walked into class.

I saw you again,

and my heart shattered like glass.

I wanted to grin, to wave,

or just say "Hello".

But I knew I couldn't, wouldn't,

so I kept my mouth closed.

I wanted to scream:

I want to be with you.

But reality is

that dreams don't always come true.

And so I yearn

for your wonderful smile,

and for when you'll think to say "Hi",

even if it's only every once in a while.

Everyday my friends warn me

that you're up to no good.

I tell them nothing will happen,

even though I wish something would.

They tell me you're dangerous,

and I listen and I nod.

But deep inside I shout,

Who cares if he's flawed?

They tell me your past,

that you're hopelessly deranged.

But I want to ask them,

What if he changed?

I don't care what they say,

I'll always believe in your scheme,

I might be a stranger,

But I'm a stranger with a dream.

Now every night,

I ask the stars that shine,

Why did I fall for the only one

who could never be mine?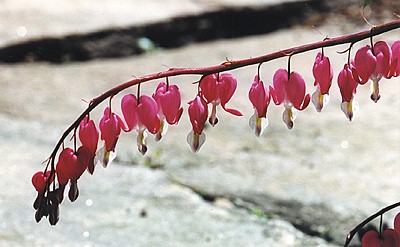 © April P., Newark, DE