Corset
January 9, 2012
One more pull,
One more attempt.
My measurements don't fit.
My breasts strain to breath;
Lungs, shrieking in objection.
Held captive by metal shafts;
Metal shafts and ribbons.
Ribbons, supposedly flimsy,
Coerce me to fit the guideline.
In this society, all are the same.
Same coiffed hair,
Same sixteen-inch waist.
Sometimes, I wish to cry out,
Not in sadness, but frustration;
But then I suddenly remember,
I can't breathe, let alone scream.
Dearest God, please save me!
Rescue me from this uniformity,
From this prison of lace and
Of limited conversations.
My only solace is the written,
The ink on paper,
Keeping my secrets and pains.
Composed in secret for fear;
Fear of ostracism tangible,
In the choking gas of conformity.
Dear God, I need to breathe!
I vow that next time,
Next time I'm surrounded,
By the sheep that personifies
The society we live in.
The sheep with the same color,
And synchronized chewing;
Next time, I will tear it off,
Wrench off the ribbons,
Throw my corset into the fire;
Pull the pins out of my hair,
And shamelessly mock
Those who conform.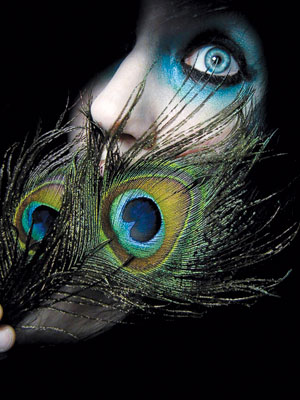 © Davina G., Abilene, TX