Doodle
December 20, 2011
Whenever I am bored,in between excitments,
stimulations,
distractions,
I doodle in the side of the page.
spirals,
flowers, sketchy lines,
and many
many
eyes.(I find them satisfyingly sad)
right now, I am between.
and I keep doodling.
I find myself doodling letters,
a L there, a V there,
and multiple 5s.
Then it grows out of the woodwork,
climbing like a vine out of a canvas wall.
WHY, it reads, WHY ME.
I DONT KNOW WHAT TO DO.
with shaky letters it reads
FIVE TIMES I TRIED.
Then, in more bold, confident letters,
I SHOULD BE HAPPY
and further down,
I *AM* HAPPY
that assured me of my sanity.
But when I was finishing a complicated knot,
letters kept forming out of the rope.
first an L,then a O.
This can't be going well, I thought,
but the S settled me again.
and the T tipped me off.
I am not lost, I screamed to myself,
But the letters spelled out
YES.
nonononono. I capped my pen.
I thought about what the letters said.
then it dawned on me.
I am not lost, I have most certainly been found,but I have lost.
I have lost a chance, lost a grasp on reality,
lost a friend, lost a foe,
and lost some sleep. But I am in between,
and I can keep doodling,
satisfying the self-expression,
and learning more about myself.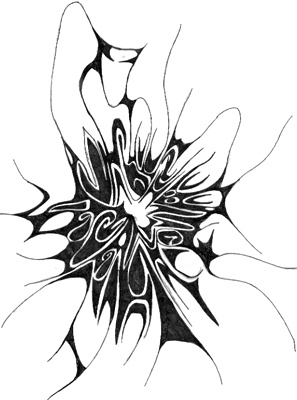 © Ansley F., Tifton, GA