The Water
January 6, 2012
When you lie down,
It looks like this old wooden dock
Could go on forever.
Never knowing when it ends,
Till you end up,
With half of your body
Dangling two inches
Above this crystal clear body of water.
You won't know how deep it is
Unless you take the risk
And plunge yourself in.
You feel the rocky sand
Forming a tornado around your feet.
The cold water feels refreshing,
Compared to this humid summer air.
You want to stay,
But it's getting dark,
And you can smell the hamburgers
On the charcoal grill.
You go under one more time,
Then paddle towards the dock.
Grabbing a wooden plank,
You hoist yourself up,
It's not easy
You get a splinter in the top of pointer finger,
You'll get it later.
You reach down
Snatch your lavender and snow white stripped towel
And wrap yourself up quick
Since it's getting chilly after being in the water.
You walk up the swerved stones steps up to the patio
Where the picnic table you helped make
Was covered with potato salad,
Potato chips,
Ketchup,
Mustard,
Paper plates,
And napkins.
You look over your shoulder
To see the sun starting to set
Making the lake turn all different shades of gold and red.
Whispering I'll be back tomorrow,
To enjoy the water again.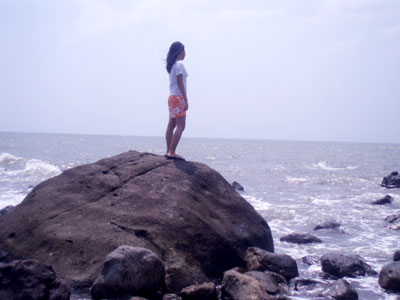 © Grace L., Bacolod City, Philippines