The Pain
December 17, 2011
The pain and embarrassment of not being to be myself is unbearable. I'm suppose to be one of those girls with their future planned out, but to be honest I know what's in store for tomorrow.
The knowledge of knowing that i can't stand up for myself makes me sick. It's funny how i started with telling others lies, and i knew they were lies. And now after so long of telling others lies I started telling myself lies and after awhile, me being the foolish one, I started believing them.
Now what am I?
A liar?
Foolish, an embarrassment?
Do i believe all the things I tell others, or do I laugh at them all on the inside.
When I look at myself in the mirror I'd tell myself I,m beautiful and sometimes I am, but other times I'm just a ordinary plain girl with a dream no one knows about. A girl with ambitions and goals so high.
But the second someone says something I freeze and I can't think. Don't know why maybe it's genetic, or maybe I'm just a coward, I don't know , but I know one thing that, that girl has no clue how to be herself. Has no ideal how to get back to what she was before.
That person is me........
If one she could set me free.....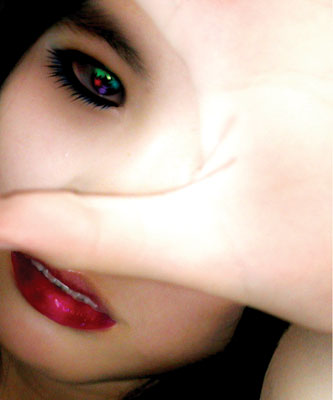 © Victoria W., Arcadia, CA