The Roses of Yesterday
December 14, 2011
I walked on the Road
the Road that led away from Today,
the memory carriage did I board,
that drove me behind the horizon
to the Roses of Yesterday.

For hopeful love the rose is pink
for undying love the rose is white
but it is the red rose bed into which I sink,
that take me away from the world,
to the Roses of Yesterday.

To bloom, the red ones are late,
they unfurl after the passing of summer's sun,
but their crowning glory is worth a wait
because they detach me from my mind
and take me to the Roses of Yesterday.

Their petals remain young throughout summer
a triumph over the pinks and whites,
they rustle in the wind with just a murmur
appealing voices in the air that invite me
to the Roses of Yesterday.

And beyond the Yesterday road the carriage drew,
perfumed rose bushes I passed
where whiffs of it's scent blew
and I knew I had reached my destination,
The Roses of Yesterday.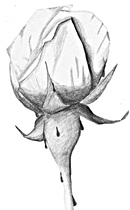 © Elaine S., Phoenix, AZ