Unscattered Slowly
November 12, 2011
So many pieces of myself
Packed carefully, unscattered
Across fifteen years, thousands of
Tradition. I try to see the unreflected mirror,
Wonder if, before I'm gone, I will
Find a heart to find, gather my
Separate lives and find a
Way to make the river run
Backwards. Look around, then, to
My beginning, think to ask
If that will be me as well, should be,
After sixteen years, still awkward silences
I would hope for a window so full
That I wouldn't need to look through it
Though maybe I would prefer
To be not, in a window but to see myself
Reflected back, a thousand times
Each perfect, so I would not need
To remember, to hold on
To the pieces, lives, six thousand miles
But happiness stretches across, unbending,
Like the ocean that speaks
Yet the same language. Your smile
Still makes me laugh, sends me
Sprawling, each time. I'd like, at least,
To see you in our song, having
Myself in your memory, I would never
Forget who I loved. For just now, I
Try not to think, in case my glass
Confusion, there are no mirrors
At all, and when I reach out for
Comfort, all I find are
Whispers
How could I
Have let you
Out
Of my arms?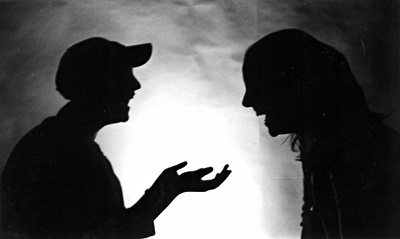 © Jeff A., Marblehead, MA