This Winter
January 1, 2012
this winter

we will lie on the floor beneath the clock

and I will curl like a cat along your back

and hide my face against your shirt

while snow mutes our thoughts

and frost kisses the window panes with

sighs of longing.



I will lose myself again

while I sit and stir the pot upon the stove

the steam curling my hair like

the Christmas ribbons that guard the presents

beneath the tree that smells of

gingerbread and

childhood;

the smell of stale snow and sidewalk salt and

cold,

the smell of hugs from people who have just come

inside.



Birds peck at homemade popcorn garlands

strung between the naked branches like

a skimpy women's lace,

they leave the dried cranberries behind for the

spring.



Tonight I will crack my window's jaws

for an excuse to reach the extra blankets from the cupboard

and sleep cocooned

with cheeks like salmon

and skin soft as brown sugar,

the December moon spilling in to my

hair.



Crusts of snow in the hems of my pants,

crusts of apple pie in the oven,

long coat sleeves hide holding hands and

pomegranates stain our lips and

fingertips,

we will toast marshmallows over the stove

and I will tease you when your knee touches

mine

beneath the countertop,

but I will keep it there all the

same.



Curled on the rug beneath the clock,

you smell of wood smoke and peppermint and

that sweater I stole out of your room

while you waited in the car,

I hid it in my pillowcase when I got

home.



After showers I will not bother getting dressed

and sit down at my desk to paint

in all my glory,

and later

you will drive a red matchbox car

over my bare breasts

while I pretend to sleep.



Beneath the mistletoe

I will count the snowflakes on your eyelashes

during cold-nosed kisses with

salmon cheeks,

until the last of our endless days dry up

and my knee must settle to be lonely once again

beneath the countertop,

and I wear your sweater

even though it has lost the smell

of napping at your side upon the floor,

and you are gone.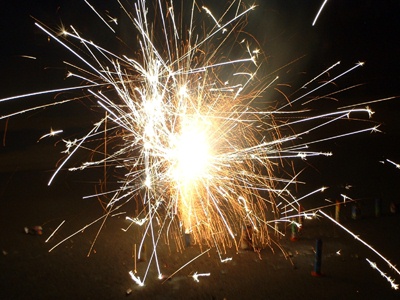 © Kevan B., Beaverton, OR