Sunburst
January 1, 2012
Chirps of birds greet the morning,
Sending their songs out to welcome the sun,
Shooing the setting moon.

A blanket of black darkness covers the earth,
Thin, moist clouds visit the valley,
Jack Frost tickling grass tips.

Shades of gray and dark blue,
Etch the eastern horizon,
Dimming the twinkling starlight.

Tints of violet and crimson,
Inch into the sky,
Turning bellies of clouds their cozy hue.

Whispers of wind rustle the leaves,
Anticipating the coming splendor,
Visiting the corners of the sleeping world.

Quietly, orange and yellows blend with ruby,
Pushing out the black of night,
Fighting for a place among the rainbow.

Rays of light begin to pierce the painted sky,
Bouncing off crystal drops of dew,
Fingering edges of velvet petals.

Slivers of golden sun peek over the treetops,
A child peering into a high window,
Like a goblet of fire erupting into the heavens.

The entire glory of the sun fills the waiting sky,
Pushing back dyed clouds,
Swelling in the speechless attention.

Light springs over every hill and colored leaf,
Claiming its residence for the day,
Life returns to the earth.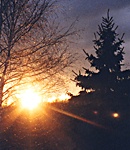 © Christy S., Germantown, NY