Remorse
MAG
December 31, 2011
Again. He rises from bed
Again, slips from things
Lukewarm, mundane things
Gone.
The dream is to travel.
Gritty sand polishing foot soles,
A shaky journey across
The dunes.
Every shoreline is endless,
This one even more so.

Back in that room,
Shriveled paint crawls from the ceiling.
Dry dry dry dry dry
Chapped lips and
Coffee grounds. The
Summer has been so cruel.

Here it does not sink in.
We are amphibians of the
Least efficient sort
Our skin too complicated
To absorb it all.
The sand is the skin
That soaks it up for us.

He does not wish to lay
In the middle. He
Hates the waves breaking
Against his ankles, shudders
At the scratch of the
Shore on his back
Scrape it raw scrape it raw
Map the sporadic shuffle
Of the tide pool rocks
And put him out of misery.
Drown him in his morning tea.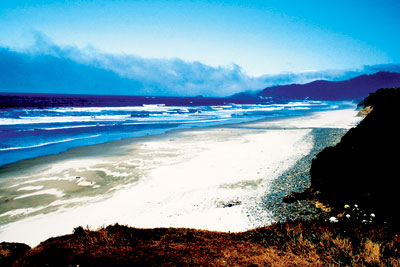 © Kristin R., Los Altos, CA