Louder than a shout
December 31, 2011
She stood, still as a statue,
Tears dripping down her face.
I sat, wriggling,
In the throes of deciding my next minute's fate.
They crouched, a bitter, mocking, circle
Tight around her, their loud laughter echoing off the metal walls.
"Ha Ha". It is the laughter of hyenas, clanging in my ears.
They sway with their laughter, sway like snakes,
Hypnotizing with bitter, charming eyes.
She sits, she shakes, heaving, throbbing,
There is something in her eyes besides diamonds.
I stand, very still, breathless, achy,
Tears dripping down my face.
I move, I walk, I scream, the world watches without emotion.
It does not care. It does not hear, no matter how loud my voice,
People everywhere still feel hurt.
They argue with me, they mock me they keep her fast within their evil circle.
While they talk she runs away, not looking back.
She is gone. She does not come back.
I have no more energy.
I fall, and for a moment I do not rise.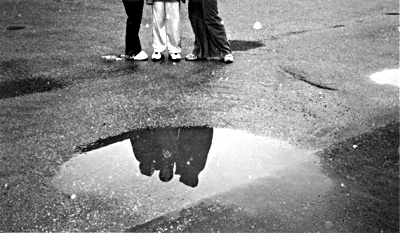 © Gary C., Pequannock, NJ