Our Storm
December 27, 2011
Breaking,
Yet not yet gone,
There is such power in vulnerability,
Deep, enough to stir an ocean,
Swinging on a pendulum,
Tracing the horizon,
The danger, I have found,
Is in the fall not in the flight,
After all, What force dares stops the heartbeat of the sky?
Who lives to tell the tale of when the ticking stops?
Hypnotist!
Always swinging,
Never still,
Beckoning, his voice whispered:
"I'm not making any promises"
But they were made all the same,
And even I knew they could not be kept,
I only hoe the ocean is deep enough to contain them when they do fall through,
Because I had thought I was.
For a moment we were swinging,
To the heartbeat of the sky:
"I'm not much of a dancer"
But if only I had been,
Then we could have kept time,
Held back the storm,
Lived that moment for ever.
Liar!
Time teaches, it never waits,
Rhythms change, rain will fall,
This storm will break,
Then we'll be lost,
Snapped, falling,
The smokey horizon clouds the distance,
It really is quite a way to fall,
Your face, set stone grey,
Holds the key to that inconstant beat,
Always kept so far above my reach.
"Why?"
Clocks keep, but are not keepers,,
Taming the untameable,
Was another of your breakable promises.
Magician!
Your silence has cast me here!
As we swung, it was me who begged:
"Never Break!
Ignore the hands that follow us!
Together we can own the sky,
Or at least,
We're high enough to pretend a while longer"
Time teaches, but cannot lie,
Clocks may break but it won't stop,
And so the pieces fell.
Spells, promises, ticking
Cleared the sky,
We were just another storm,
That broke.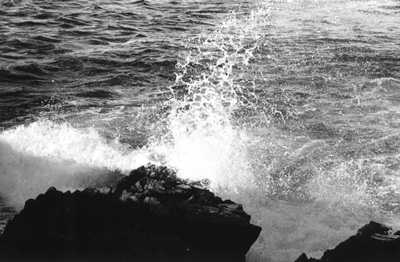 © Shira B., Marblehead, MA