Funerals
December 26, 2011
Paul was a nice guy,
a real pushover when it came to women.
He had a girlfriend named Jill.
Paul and Jill,
the names didn't even sound
good together.
Paul didn't care, though.
He wasn't a very attractive man
and he had an addictive personality.
Jill was pretty in the face
but when she took off her shirt,
she had burn marks from a fire
years ago
that covered her body
and looked like dried out red turnip skins
glued to her own skin
from the neck
down.
Most guys minded this,
but not Paul.
He would take whatever he could
get.
And every day Paul made love to Jill at night time,
and sometimes during the day.
His ugliness and her burns
not seeming to matter,
yet also making them very empty on the inside,
and their relationship was very empty,
because they had to settle
for each other.
The world had f***ed them both
and their sex life had
in turn become like
dinner scraps.
But that was okay,
because Paul
had another love,
named speed.
And Paul would swallow more and more speed
every time he felt that he desperately needed
a break
from the emptiness between Jill
and himself.
He once swallowed so much speed
that his lips turned blue
and his heart was beating
in a way that suggested a heart attack.
But somehow, he had avoided
it
and Jill took him
to a clinic to be examined.
They determined it was
the result of high blood sugar,
and so they gave him a bill
for the drugs they wanted him
to take.
On another night,
however,
when Paul decided to swallow some speed,
he wasn't so
lucky.
He overdosed right there
in the kitchen,
while Jill was cooking him
supper.
They were going to have
sandwiches on wheat bread,
with the crust removed
because that's the way
Paul liked it.
And at the funeral,
Jill was crying with
Paul's family,
because she had lost her own family to the fire,
long ago.
And it was an open-casket funeral,
and there was
sad music playing
on a radio
somewhere.
And Jill eventually
gathered up the nerve to walk up
to his casket,
and touch his face.
It was slightly bloated,
and off-white,
and looked uglier than
ever.
And Jill later committed suicide,
and only a few of Paul's relatives
showed up,
along with a preacher,
who spoke some kind words
about her.
And for some reason,
she asked to be buried naked.
It was a closed-casket funeral,
so nobody could see,
but it was in her will
and her suicide note,
so it had been
allowed.
There began to be words
whispered around
Paul's family
that it was because all of
Paul's problems were in the face
and all of her problems were
with her body,
so she wanted
to confront her
flaws
publicly,
like her husband.
And it was rumored that
she originally wanted the top
of her casket
to be opened fully,
so that everyone
would be forced
to stare at her
burns.
Of course this had not been allowed,
because it had seemed too vulgar
to be allowed in a
place of worship.
Then eventually, people stopped talking about it,
and both of their deaths
were rarely discussed
amongst anybody.
But they are buried together, in some run-down
cemetery,
placed between rows of worn-out buildings,
somewhere near a
homeless shelter
and a projects.
And their bodies will decay together,
and over time
they will begin to look
more and more
similar,
eventually becoming
perfect.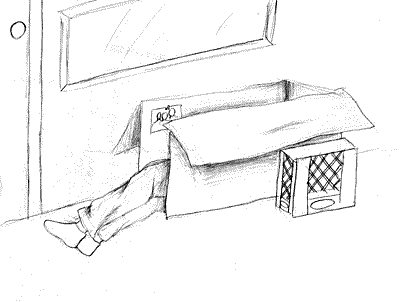 © Donte P., Philadelphia, PA