Which is this?
December 15, 2011
Embossed in the cruelly cut rock,
Shadows falling deep and slow over the ruins of the past,
Here there everywhere rubble from what was,
Footprints of what is
And the essence of what will come,
Or become,
Sand cast up by the movement,
Books strewn across
Some depicting the brave knight vs the dragon,
True love that never foresees doom
Or even the alchemy of which still persists,
Luminosity soon forgotten,
As neither moon nor sun casts its light,
For clouds hide the sky,
Skeletons exist on the far line
Creating the vision of needless wars and pain,
Yet to its right a church bears its platform presenting a single flare,
A candle from within,
Alas religion is not but a piece of the puzzle,
And past the window, colorfully dull from time,
Lone and robust with a vibrant repertoire
Blue bonnets, pansies, roses, daffodils, lavender,
Flowers more abundant than that of a nursery,
Most brilliant,
A single rose,
Not red, not pink, but yellow,
Brighter than the chapel's candle,
Petals open and flowing like a fabric finely spun,
Each capturing and reflecting light as if from its own creation,
Several petals ripped or dried cast upon the ground,
Brown with age,
Battle Scars never dwindling,
Amazing, Magnificent, A wonder,
Out of desolation a single bud survived the storm,
Like so many,
Yet still like so little.
There is optimism and realism and one
Should notice the difference,
So my question,
As I stand amidst the little light available,
Which is this?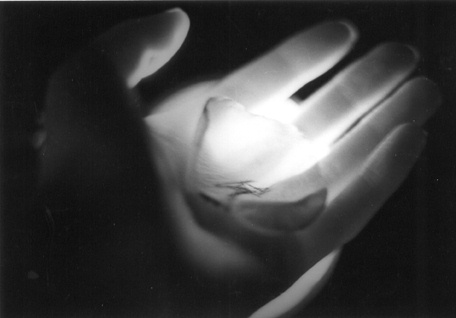 © Feichen Z., McLean, VA