Innocence
December 18, 2011
Dove white was all I could see,
until you came an set me free.
The howling wind was my conformand,
as quietness wrapped around my thoughs,
through sunset to sun rise,
day after day.

It was you,
who dragged me across the land,
the terrain that was my home.
That brisk winter day left behind the past me.

I wish I could say,
I was perfectly fine to remain in the fields.
But I know it would be no use,
because I was chosen by you.
My fate rests in your hands.

You took me to your home,
my new home.
No longer could I hear quieteness,
the air was replaced with melodic Carols
and bellowing bursts of laughter.

I rememeber.
That fine afternoon,
when you chopped me from my roots.
You ripped away my life,
my resting spot, my shelter.

I became exposed:
Shorter, drier, and weaker.
Oh, Christmas Tree
Oh, Christmas Tree
You sing to me,
I wish you would stop.
I grow too weary,
as my branches break from the weight of the bulbs.
I feel unnatural:
As emerald and crimson illuminated throughout my core.
I no longer could feel the tranquility in the field of winter.
The durration of my life was with you,
I know I could no longer again feel
the sun shine down,
upon my ever green branches.

Why did you have to take me from my resting spot?
I was snug,
happy,
in that isolated winter's snow.
I miss how the sun
casted its warmth upon my arms.
Instead, I sit here bored.
Endlessly peering across at the living room wall,
until Christmas morning came along.
That morning I sat back,
looking my best for you and your kids,
Watching your family open presents.
It was my duty,
my pleasure.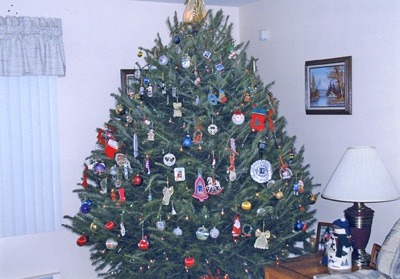 © Brian N., Mildford, CT