Layers
December 15, 2011
When people look at me, most only see what's on the surface:
My brown hair,
My brown eyes,
A female teen with a good sense of humor,
A kind-hearted person.
The rest are able to look a little deeper into my true self:
My disheveled appearance,
Dark circles under my eyes,
A fake smile,
Internally messy,
The scars on my heart.
No one will bother to look even deeper, into the part that I hide even from myself.
The part I want no one to see:
An insomniac,
A child afraid of rejection,


Acceptance,


The future
The clawing insanity,
A person who tries too hard,
The gashes in my chest,
A little girl who has lost her way.
What will you see in me?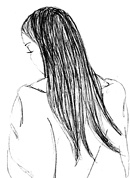 © Miranda B., Neosho, NY