What Matters.
December 14, 2011
What really matters?
What people
think,
say,
or believe?
What they think about what you do, or what you should not do?
Those should not matter. At all. Not one bit.
Do what you do
best.
Do what you
love.
Don't do anything someone else forced you to do, because then you're not
happy.
When you're not happy, nothing goes right. It just keeps getting
worse.
And if you keep getting worse in life, nothing will matter anymore.
Nothing.

Nobody, never again.

You just slowly become unreal to reality. No matter what people say, you should do it anyways.
I remember hearing someone say,
"Nobody likes horses."
And
"Horseback riding

Isn't a sport."

It put me down for a while, but then I realized that those people have probably never experienced the same experiences I have, considering they say it's
"so bad."
Horseback riding is not a widely distributed sport,
nor even considered a sport to some.
Everyone that calls horseback riding not a sport has probably
never
even
sat on the back of one.
When people think of sports, they think of
adrenaline-rushing,
fast paced games.
And many haven't had the chance to try that feeling on the
back of a horse.
When you're on the back of a horse,
everything
changes.
The word adrenaline means nothing to you, because you can't think.
Fast-paced?
More than that.
People just can't seem to identify that you should not judge something before you try it.
Yeah, it may seem like you just sit there.
Boring,
boring,
boring.
Trail rides?
Not a true experience.
The real thing is, you have to know your horse, know what to do, and
try.
Maybe some people have gone on little trail rides at a place on vacation where the horse follows the trail along,
woopde-doo.
Well, that's not real horseback riding.
Consider this,
that kind of trail ride is much like just kicking a soccer ball around,
not actually playing the sport of soccer.
If you actually play horseback riding, it's much more.
Nothing is the same then.
If anyone ever calls horseback riding
"not a sport"
Again,
I would tell them to go
get on my pony,
figure out how to control him,
go over some 2'3 jumps
And
Stay on.
Then they would consider it a sport.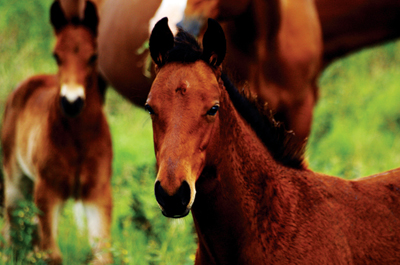 © Sarah L., Holualoa, HI