The businessman
December 12, 2011
Every Morning, while I wait
For my bus to come over the hill
and down the street,
There is a businessman.
His eyes dart from place to place
as he straightens his tie.
Today it was polka dots.
Large white spots thrown against
a black surface.
I remember they were little
Gold fish yesterday
Swimming in place.
Now this businessman, unlike any other businessman,
has his hair spiked into a mo-hawk,
Its quiet impressive.
One day I'll ask if I may get a closer look.
He walks a small brown hairless dog to my corner.
The little rat yaps at me while bouncing up and down on all fours.
The businessman shrugs and tries to pull it away.
He doesn't budge.
Businessman smiles nervously before finally getting it under control.
He blinks a couple times before turning away.
But unlike everyday before this one, I raise a hand and shout "See you tomorrow!"
He suddenly turns around,
His green eyes melting my brain.
He smiles and nods in his "Buisnessy" way.
Oh, that businessman.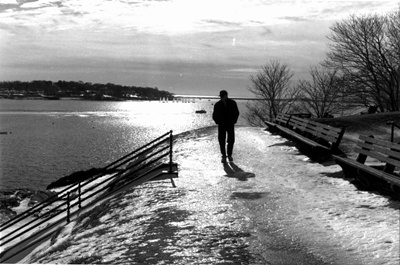 © Steve S., Marblehead, MA