translations
October 12, 2011
I am tired, I have a math test tomorrow,
and I am translating English back to Johnny Bunin.
Johnny is a Russian kid from my high school,
for whom English is a second and secondary language,
he does not understand such sentences as
"the distinguishing characteristic of popular culture is its collective nature"
and I want to say,
"do you not comprehend that I am educating you about the syntax and rhythms of a tongue that you have spoken since the halcyon days of your youth?"
which means,
"I'm basically translating your own language back to you. Isn't that a little sad?"
and I am reminded of my other Russian friends
who lament the freezing of my tongue
icicles drip, not unlike Sylvia's "ich, ich, ich"
except that mine fall "ya, ya, ya."
but my lips were not weaned on the words of Tolstoy and Pushkin.
the syntax of Blake and Byron shaped my speech.
I understand, I guess,
how Johnny Bunin's tongue twines
and how the same predicament ties up
mine.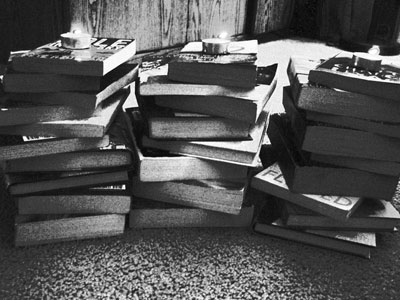 © Alexis R., Clarkdale, AZ