They Know
December 4, 2011
She does a lot of thinking.
He tries not to.
She has a lot of wants.
He has a lot of needs.
Her hair, healthy, thick and long.
His, patchy tufts of wispy light brown, shaved not-so-often.
Her skin is warm, alive; veins pulsing beneath it.
His is dry, cold. Blood cells die in his deteriorating body.
Her brown eyes, wet, shining with a hope that never fades for him to get better.
His, a ridiculous blue, a color you think wouldn't exist unless taken from the raw, unpolished lapis lazuli; a prayer in the gleam of his eyes for him to get better.
She bites her nails, her cuticles bleed from the constant pulling. Somehow she manages to keep her weary eyes open through the depths of the night, as she gazes from him to the moon, and back again.
He disguises himself as sleeping, so that he doesn't rip at the tiny slithers of her heart that are left.
She wonders if one day this cancer will steal him away forever.

He wonders if one day his pain and suffering will steal her away forever.
And even though in mind, body and strength they are completely different,
She knows,
He knows,
They are exactly the same.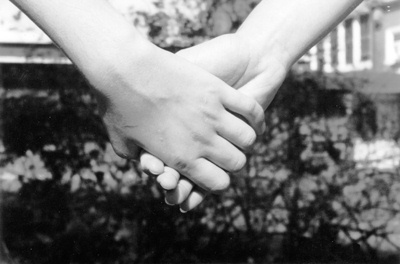 © Lauren G. Pompton Plains, NJ