walls closing in
December 4, 2011
Ring ring. Rude awakening, stomachs churning, head's pounding, anxieties resurfacing, money calling
I answer, get dressed, out the door, walking in the dark, mind wandering in the light.
Trapped in my mind's hallway, between future plans and current status, walls begin to close in,
Been doing so for years, a choice must be made, stay where I am and at any moment reality and a
Matter of time could knock down my door to take me away, or take a chance, jump off the cliff of
Settling, towards my dreams, chancing that I could fall and lose both. Keep working on a job already
Started but can't be completed, only gets ended. Or try to walk on a new path, but the starting line is
Too dark to see, the light's blocked by worries about the future, doubts about myself, and fright from
Failure. Longing to start on new journey, but the toll for crossing that bridge requires the path I would
Leave behind. So I must stop walking in the dark soon but I need to keep on until I've done enough to
Turn night into morning so I can follow the path I desire.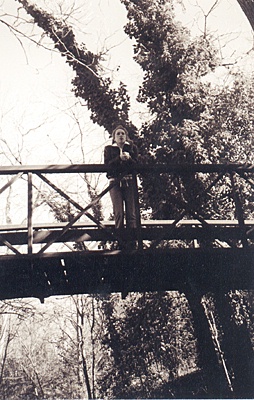 © Loni B., Hamilton, TX