Sicilia
November 29, 2011
Blue black and blood,
Spill my secrets,
Paint my past.
My pedigree its fertilizer.
Dye the masts,
Set fire to the storm.
Paled in the salt,
With ancestral thoughts.
My Hellenic heart,
The anchor.
Demeter's hands hold me solid.
While I lust amongst the lemon trees,
Caught in the olive clouds,
The Perpetual daydreamer.
Ti amo, la mia terra.
Ti voglio, mio palazzo.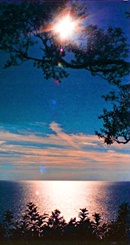 © Crystal B., Gresham, WI