I'm From...
November 29, 2011
I'm from hearts of gold,
And playing pretend.
I'm from family debates,
And lifelong friends.

I'm from Robert Ebert with his tissue box,
And many dog's yelps.
Time measured by Rugrats,
And nursing pigeons back to health.

I'm from Golden Shadow being Camelot,
And "Sisters will always stay."
I'm from learning that broken hearts,
Only help us develop our ways.

I'm from watching for trains on the tracks,
And reminiscing about the good old times.
I'm from embarrassing family vacations,
And many feelings that half of us hide.

I'm from Leprechauns under rocks,
And "JUST LET ME BE!"
But I stand by the thought that
Where I'm from has made me, me.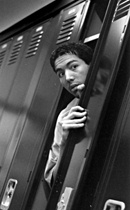 © Paulina A., Marblehead, MA