Anything But Parents
November 7, 2011
Look at you,
Both of you.
Where has the love gone?
Where is the happy couple?
The very ones I used to gaze at in awe,
Snapping candid photos of hand-holding,
Of gentle smiles,
Crinkling the corners of your eyes.
Those eyes,
Eyes that once held love,
Now refuse to meet,
Looking everywhere but into each other.
Mouths that once promised forever,
Now make bland, hopeless conversation.
They speak of appointments,
Court dates,
Bankruptcy.
Hands hang limply at your sides,
Shove themselves in pockets.
Hands that once wore rings,
Once clasped together,
Silently screaming devotion,
A rock-hard resolve.
There is an invisible wall between you,
Though I see it clear as day.
I am left to toe the dividing line.
You are as broken as your hearts,
As this family.
Time spent like this is deadly,
An Arsenic/Novocain cocktail,
Numbing us to our slow but sure demise.
The very air seems to chill,
Freezing the breath before our eyes.
I can't even cry anymore.
Not even for the memory of us,
Of family.
Oh, such fond memories!
Holding your hands,
Swinging between you,
Toes brushing the ground beneath.
But then again,
Not much has changed, has it?
I am still grasping both sets of hands,
However tenuously.
I am still dangling between you,
Though both sides seem to pull a little harder now.
Oh, such bitter memories!
Children's hands,
Covered ears,
Shouting matches.
This time,
Things have changed.
Shouting replaced by complacent, dead whispers
(Protect the children).
Trembling hands overtaken by music.
Anything to make Mommy and Daddy stop yelling.
Anything to drown out such bitter exchanges.
Loud, despairing melody,
Sung by an anguished voice,
Reverberate in my ears,
Cover your voices.
Dear singer,
Sing not of parents.
Let my mind drift to much happier subjects:
Loneliness,
Emptiness,
The sweet release of suicide.
Anything but parents.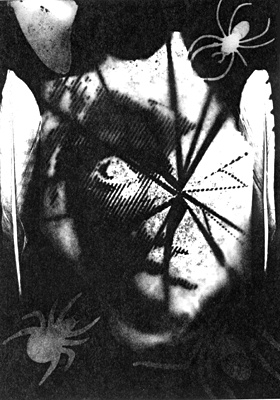 © Lindsey V., Aberdeen, SD