Ways of Autumn
November 10, 2011
I walk up to the old, crying maple tree.
The tree flies up into the sky, touching the stars,
Its leaves sinking in the swirling colors of Autumn.


Sweet scents of hot pumpkin pie
Freshly baked in the warmth of the oven.
Steaming cider rests in the hands of the baker.
He looks over all he has done,
Slowly rises, bathing in the scents of Autumn.


Stepping into the grass, and the fallen leaves
Crackle underneath my presence.
Flowers wilt in the frost, shivering in the cold wind.
They sleep, awakening in spring.
I listen to the voices of whispering trees, echoing all around me.
The touch of the rough bark,
Maple trees stinging my cold fingers.
I touch the Autumn Earth.


The blue sky has disappeared,
Blackness to take its place.
I feel the Autumn air all around me,
It engulfs me in its chilly fingers.
I know the ways of Autumn.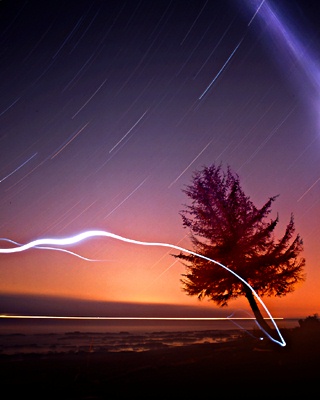 © Joey M., Spokane, WA