Pain Is Suicide
November 22, 2011
It stabs through your heart.
Cutting you multiple times.
Until you become weak.
Your weakness makes you vulnerable.
And vulnerability engulfs you into almost a psychotic trance.
You then ask.
"Why is my life so miserable?"
And when you finally lose yourself.
You find yourself looking.
Looking for something to relieve you from this hell of reality.
A glimpse of shine catches your eyes.
And you observe.
The beauty of such a horrific object.
Grasp it. Grasp it firmly.
Soon the sharp edge gets closer.
Not just to your forearms.
But to your own emotional being.
Of flesh and elegance.
And as your wrist is laid out.
A wrist which was once pure and smooth.
Now becomes a bloody mess.
As if perfect red railroad tracks hide your innocence.
Running over your plain flesh.
A rough, horrifying crime.
Abusing yourself.
With what you don't realize.
But selfish intentions.
You then ask.
"What have I done?"
And grasping to what little hope you have left.
You cut more.
Except deeper than the last.
And you run.
Run into your half-self pitied state.
Blood constantly leaving you second by second.
Done.
Exhausted.
Angry.
You look around yourself.
Eyes sunken and face pale.
Observing your last details and memories.
Your vision blurs.
Closing your eyes.
Your heart sinks.
And through your tough times.
Regrets.
Feelings.
And selfish decisions.
You forget.
You now feel nothing.
Physically.
Mentally at peace.
Away from the cruel, bitter emotions of our society.
Pain is suicide.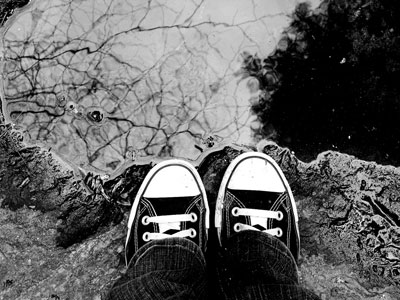 © Michelle B., Blairsville, GA