My Other Half
November 27, 2011
Half of me is here
and the other half
well,
the other half is laying on her back in the summer grass
making up new constellations.

My other half is up a tree,
catching bees with jam jars
and she is skinny dipping while the moon paints her
blue,
the other half of me is building fairy houses in the field
and eating honey with her fingers from the comb.

Half of me is finger painting the fence
and decorating mud pies with dandelions
that she beheaded with a whippy stick.

My other half, she is squeezing pumpkin guts
and rubbing flour on the rolling pin,
she is baking pies from scratch.

Half of me is sitting in the shallow waves,
letting the ocean pull the sand from under her.

My other half is looking down at the patchwork quilt of earth
from the airplane window,
and she is barefoot in the woods
building imaginary empires and
hunting dragons.

She is picking cherries from the tree
and squishing them between her toes.

Half of me is playing with magnets on the porch,
eating a tomato from the garden like an apple,
popping bubble wrap
swimming in the water tower
spinning on the tire swing
sleeping on the roof
and planting watermelon seeds in the yard.

Can't you see her?
She has paint beneath her fingernails
and leaves in her hair,
she is singing in the sewers and
dipping her fingers in the pot on the stove
when no one is looking.

She is rolling up her jeans
and leaving footprints in the wet cement,
and she is running through the corn field
hand in hand with the boy with the half smile,
the one in the hat.

She is sitting at the front of the boat in his sweatshirt,
squinting into the sunset that paints her
orange.

She has caught the cat,
and is trying to make it drink from her sister's
bottle.

She is pink and damp from sledding,
and the roof of her mouth is burning from her
hot chocolate,
but she doesn't even care,
because there is rain to dance in
and pudding after dinner.

Half of me is free,
the other half
is here,
wondering how she got there.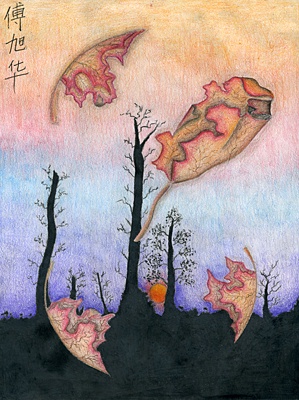 © Becky F., Sacramento, CA