Even Though You're My Ex...
December 2, 2011
Was he a good kisser?
Yes, He was an amazing kisser
He could give me butterlies
I could only open up to him
He was to good to be truebut turns out he had flaws.
He got mad at me
told me to go cut myself
and just kill myself
Wanted me to do things
I didnt want to do
He flirts with other girls he likes
even though he was with me

I have flawss too
but hat he did was wrong
It's said he wants to apologize
by another friend
If he wanted to apologize
he should do it himself
But should I even accept?
Cann I really put all that behind?
I could but should i?
How would my anxiety?
Would it get better?
Or would it only get worse?
How can he be winning
When I won before?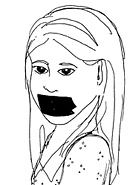 © Liza M., Vineland, NJ