You Built my Flames
November 27, 2011
I knew one day I'd be yours,
We'd be yours,
that We would never again be our own.
I miss me and her.
when it starts to get cold out,
and my teeth shake and rattle,
I wonder real quick if she misses Us too.

She doesn't, I'm sure.
She always wanted to be
Someone else's.
I guess she never knew
We had always been each others.

Then You found my treasure
In the middle of hell,
And the chase was over
Before i heard the gun.

You showed her a clock,
Showed her sin,
Showed her tears.
i heard her set fire
And roar with You in the flames.
i watched it all melt to black
from the backseat in that cage.
that was when You showed her
how to forget me.

then You gave her lies,
offered Your regrets,
Your pain in bows and bags.
she crumbled to ash
and You were there to build her back up
tnto Someone just like You.

we lived through the heat
the rules
and the screams.
i'm the only one left
who remembers It any different.

i'm the only one left
who remembers her when
She could smile and laugh
when She could love
when She could be someone
That wasn't you.

I thought I'd stayed strong
An iron beam standing still.
I was wrong this whole time
I never even knew.
You had built me to match
And I burned next to you.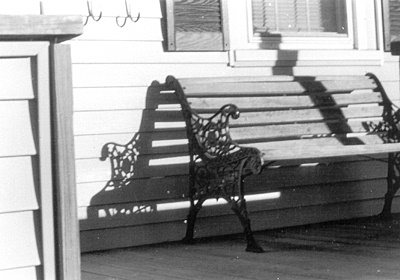 © Lauren O'D., Weymouth, MA