I See You Everywhere
November 21, 2011
I see leaves twirling
Like dancers do.
I see trees swaying with the breeze
Like you do.
You dance in the rain when no one is watching.
And you hide from sunny days
Because you think they suck.
"Why does it have to be so bright?
The stars are prettier in their subtlety
Where the sun is trying too hard."
I used to laugh as you stroked my chin,
You always compared it to porcelain,
Even with the all the faults I could see
You'd be amused by how soft mine was
Compared to your stubble.
I guess it is only a matter of time
Before you find someone else with skin softer than mine,
Or eyes bluer than mine,
Or hair redder than mine,
Or someone just better than me.
But you swear it won't be so.
Because even if you were the last person on Earth
You said,
You'd kill yourself before letting me go.
I guess I'd do the same,
But what if it isn't death that keeps us apart?
What if it's her?
The girl better for you,
At least by your parents standards.
I'm scared.
I'm damn frightened.
Because I love you.
Even when the leaves twirl,
And the trees sway,
All I can think about is your laugh
Darkening a shining day.
All because you hate sunshine.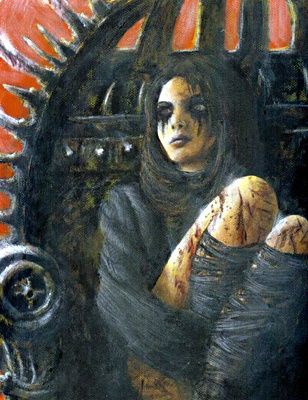 © Veronica N., Kenora, ON, Canada