No knock on the door
November 29, 2011
You're the knock on my bedroom door,
Loud and recognizable.
The cheery voice that tells me
Something to think about
Before I close my eyes
Every night.

You're the blanket that comforts my body
when my heart is freezing.
You're my laugh I never thought I would have
on a day of deafening thunder
and devastating earthquakes

I'm proud,
that you are the mature one.
The only one who calms me down
when my blood is pumping,
and stress is occupying my body.
My big sister
Who is younger and smaller.

You're my scream in the morning,
When my favorite ripped jeans
are gone with the wind.
To be found back
under your bed,
or on your legs.

You're my realization to persistence,
to eat apples
instead of chips.
Apples in thirty-two pieces,
cut on the red cutting board,
burned in my memory.

You're my mirror,
looking at you is like looking at myself.
It's our eyes that are rolling
when dad makes a dumb joke,
not mine.
Our crabby moods in the morning
that can drive mom crazy,
not mine.
Beauty and imperfection
that we share.
We improve each other.

Right now,
I feel the emptiness of my laugh I want to have
But I don't.
I miss the knock on my bedroom door,
your strawberry blond hair
visible around the corner.
I even miss my missing clothes,
that make me scream so loud.

But you still calm me down
when you hear my tears drop on the ground,
while talking to you on the phone.
Because you are my big sister,
Who is younger and smaller.
And who I'll always love.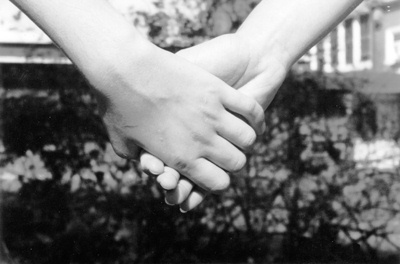 © Lauren G. Pompton Plains, NJ