Field of Dreams
November 28, 2011
Hello beautiful,
may i have a dance?

no, not on the stage,
but come, follow me,
to a lunar lit field of dreams,

now look deep into my bright, speckled eyes,
get lost in them,

let your mind wander,
let go of all holds of suspicion and reality
as we spin and swirl
and the grass sways around us,
in the light, suddenly warm breeze.

As we dance in the lunar field,
I look deep into your aqua eyes
and watch as a tiny inkling forms in
your eyes,
spider webs and spreads,

you want me now, there's no turning back,
innocent curiosity, had turned into passion,
and the passion has taken over.

We stop spinning and swirling,
in the field of dreams,
our lips touch briefly as you step closer,
uncertainty still grips you but
the passion takes over, stronger now,
our lips touch again and tongues meet as the passion grows...

... you gasp as you wake,
laying in the field, you are so used to,
the moon is full and bright above you,
lighting the entire field,
with lunar light,
in the field of dreams.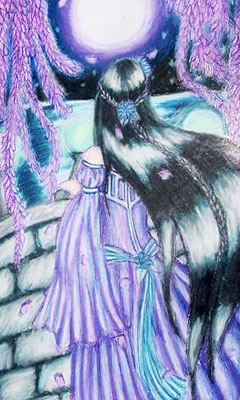 © Kelly K., Fort Collins, CO