Just a push
November 26, 2011
Though light was immune
'Till soon darkness consumed.
Seen but unnoticed,
A shadow rendering you hopeless.
To death that you part
Wishing, raving, for a new start.
Head first plunging deep,
New habits sworn to keep.

Slowly begins the train of deceptions.

Starting with a drink you know you start to sink.
A spoon then a line,
Soon you've consumed all time.
Touch, start a rush.
Bring the magic, boom. Crush.
Blame the high or maybe lush
Virtue now can't be a must.
Now you realize you've lost all control.
There is no chance now to save your soul.
You dig you're trench,
As no one sees your life takes a wrench.

Hit.

Say it is suicide without deny.
Family, friends are left to cry.
It's fair to say you gave your all,
Just no one wanted to hear your call.
Who knew that something so simple, so common, so brute
Would contain the possibility to make someone shoot

Down.

It was just a push then a shove,
A few words lacking love.
Upwardly stacking the hate,
Until apology comes just a minute too late.
Thus begins the downward spiral.

Unstoppable.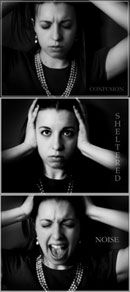 © Michelle B., Blairsville, GA