A kiss isn't just a kiss
November 24, 2011
I remember when I was young,
Rosy cheeks and so naive,
I didn't know I could be harmed or hurt,
to me a kisses were between a mother and a daughter
when I had a scratch or I was scared,
the only things I had to worry about
was being afraid of the dark or monsters under my bed,
I was always daddy's little girl,
I didn't need any other man but him,
but when I got older something change,
I found that boys were something every girl liked,
I wanted to be like every other person out there,
holding hands and kissing when everyone was watching,
boys were looking at me
I knew they were,
but I had no interest in them,
I was taught school and family came first,
until the day I meant you,
there was a connection that I've never felt before,
I tried explaining it to my mom but she never wanted to hear it,
but I knew there was something there,
the first day you came up to me
I was nervous to hear what you had to say,
my hands were sweating as I was holding my books
trying so hard not to drop them,
"Hey, I'm Paul the new kid. Do you mind showing me around?"
after that day we talked more and more,
damn did I like you,
it was a crazy feeling that I loved,
I didn't want to be any where else but with you,
boy you were my passion,
I put my whole heart into you,
you said you would never leave,
you were suppose to me my last first kiss,
but I finally knew what it felt like
to be hurt and to cry,
but not over scrapes and bruises,
over a broken heart
that can never be fixed.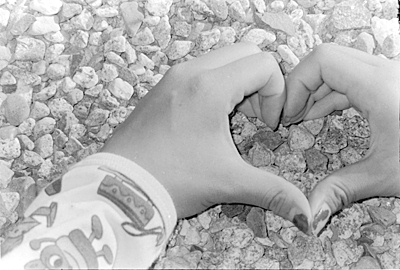 © Caitlin T., Marblehead, MA