Used Matches/Forever Boy
November 17, 2011
One minute I could stare into his eyes
The next, conversations to dark gray skies
Holding my hand, he promised forevermore
I'd be the one he needs, the only one to adore
He was the reason for my future, the motive for my smile
Tender words from his lips would make me laugh like a child.

Early morning in his lap, a headphone in one ear,
my heart so full, fingers intertwined, minds absent of fear.
I could always feel his eyes on my face, tracing the hurt,
he'd wish, silent, he could make it better, spoke of how it could've been worse.

A soft whisper in my hair,
his hands were still as I shivered everywhere.
Heavy thoughts of everything, of all the things we would share,
he promised, the forever boy swore he would always be there.

Yet here I sit, alone today, unable to cry.
Only amazed at the magic of morality,
a trick too often played by the gods,
a show of their power, fairness not factored
A fantastic gift they bestowed, to forever boy
Forever youth, forever in memory,
forever a treasure.

I glance at myself in the mirror, see him standing just near,
Next to me, perfect, his breath tickling my ear,
Murmuring 'so beautiful', skin radiating desire,
those gold-flecked eyes would thrill me,
lust the fuel behind fire.

My knowledge of the truth surpasses the strength of denial,
burns straight through the visage, an infinite trial,
No matter how hard I try to sleep, the dream fades
hope was loved as it lasted, reality stabs deeper than the sharpest of blades.

The night after, I sat on that mossy rock, this time alone,
listening to the tides faint song,
The one we'd sing to, laugh to, be with one another.
I closed my eyes and sensed, as hard as I could,
tried to believe, to succeed, to defy natural laws,
just to reach him, to hear him, to see him, to feel him.
The darkness remained empty except for my breath,
Only the eyes of the stars watched me as they shone.

I put everything, all hope, into one seeing more than the rest,
Twinkling brighter, sparkling shinier, this one's the best,
Sees right through me, through words, through emotion, straight to my soul,
To intention, to ambition, sees how on both, the loss would never finish stealing its toll.
This star sees the grief, I know it knows the forever love.
The feverish forever longing to believe he's this star above.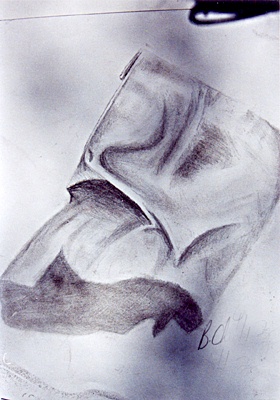 © Brandon C., Concord, NC