" A handmade shell"
November 6, 2011
With this life comes a vast wave,
Waning memories and waxing new.
Carrying deep love to a shallow heart,
Undulating this love along with the next break.
Along the way, find the delicate gifts waves bring,
Handmade sea shells created with a heart in mind.

With this heart comes a vast wave,
The neglected child is given a chance.
A careless man's daughter gives love,
A ripple of hope for a loveless boy.
Never will the rip tide prevail, the barrier broken
Life's current carrying her love to him.

With this mind comes a vast wave,
Flooding angry hearts with peace.
At high tide thoughts become actions,
Word's meanings turn towards eternity.
This begins at the bay, wading deeper
Life becomes surreal, lost in pooling eyes.

With this body comes a vast wave,
Crashing into unknown waters, reefs, love.
A loveless boy, a careless man's daughter
Plunge into the welcoming abyss. Fearless.
Eternity does no justice here, love needs more
A perfect shell rolling in the vast wave of life.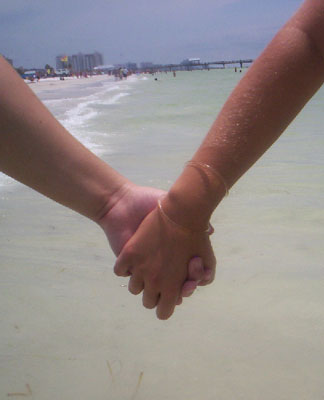 © Belinda H., Palm Harbor, FL