The Woods
November 9, 2011
Through the dark bark and broken trees,
only the weeds give me a sense of direction.
The cool comfortable air surrounding me completes me in the sense that I am simply satisfied with life.
Leaving me alone, lost in my thoughts.
Isolated from this beauty in the city,
it is merely invisible.
The leaves on the trees shift and sway in the soft wind.
Deep down in the dark green, patches of sun shine through the tree tops.
Unaccepted, unappreciated,
I want nothing more than to feel whole,
talking to the trees as if they are listening.
These lifeless lumps of bark and leaves do not judge.
They too are lonely and lost,
hiding behind fake feelings of joy,
As they stand leaning left from their soggy worn-out roots.
The empty feeling disappears while I am here, alone.
This is my place, where I can go,
if I am not home.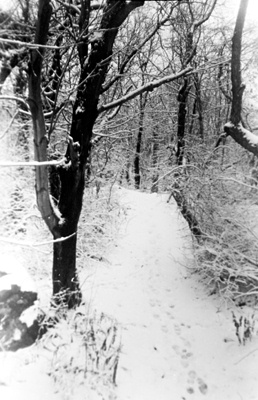 © Kelley C., Marblehead, MA