The Vigil
November 10, 2011
The grass sighs,
The branches whisper,
The leaves dance,
The wind laughs.

Frost glimmers here,
In the shadows,
And delicate ice,
Rides the stream.

The water leaps,
Into the air,
To fall fearlessly,
To rocks below.

The tiny birds,
That sang here,
Are gone, flown,
After the summer.

Only the wind,
The falling stream,
The sighing meadow,
The rocky cliff.

And the wolf,
On the edge,
Silent and still,
Watching and waiting.

Finally the sun,
Escapes the sea,
Its glowing beams,
Fill the meadow.

The wolf sighs,
And stands, content,
Its vigil done,
And is gone.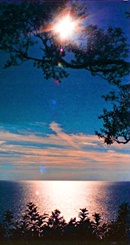 © Crystal B., Gresham, WI